You know how sometimes it feels like your phone is listening to you?
The product that you and your friend were talking about pops up all over the internet while you visit your favorite websites?
It's almost like someone's reading your mind…
Luckily, advertisers don't have superpowers, but they all do have something in common… Google!
I'm sure you can imagine, but Google knows a lot about users based on the data they collect from things like search terms, cookies, and more.
That's why advertising on Google, especially as a mortgage professional, can be instrumental to driving traffic and building your brand.

For instance, Google Banner Ads utilize the Google Display Network which reaches 90% of Internet users worldwide, across 2 millions websites, news pages, blogs, and Google properties like Gmail and YouTube.
Comscore breaks down exactly how far Google Banner Ads reach in the below images.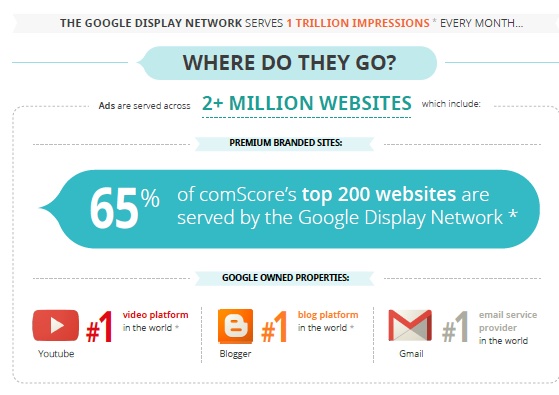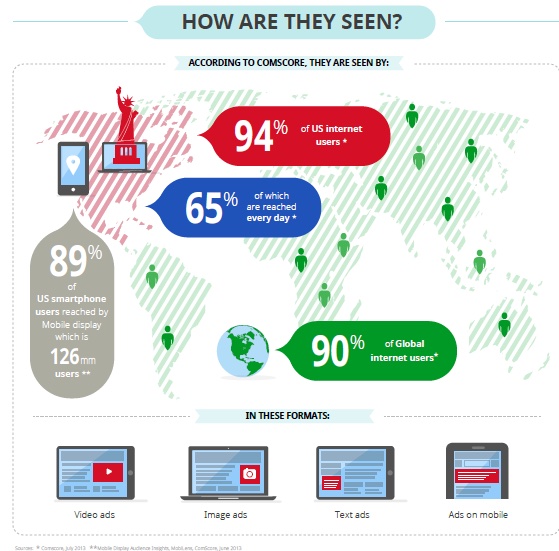 Making use of Google's Banner Advertising allows you to reach users at a low cost, and use pinpoint targeting that finds users based on their interests, location, and demographic.
You'll even be targeting based on hyper-focused attributes like homeownership and household income.
If you've run ads on Facebook recently, you've probably been frustrated at the fact you can't target these attributes.
While Facebook's targeting is VERY limited for ads related to Housing, Google comes in to save the day by allowing us to optimize your ads for quality leads!
Additionally, Google Banner Ads are one of the most cost effective forms of digital advertising out there. You can look forward to clicks that cost under $1 and impressions for fractions of a cent.
Top of mind awareness is crucial for garnering clients online and there's no better way to stay top of mind than appearing consistently while your future clients surf the web.
Your brand also benefits as you become increasingly reputable. Your marketing is clearly dialed in because your prospects are seeing you EVERYWHERE.
Their subconscious starts to say "This person really knows what they're doing…"

With the leadpops Originator Everywhere service, you'll be well on your way to make you the most visible and accessible brokerage/LO in the area.
You can get these Banner Ads Optimized for your business and start generating leads immediately.


To be eligible for this service, you need a leadpops ConversionPro Website and leadpops Lead Funnels.
Combining Banner Ads with your other leadpops services is a match made in lead generation heaven because all of our destinations are optimized for conversion.
You could have an expert dial in the most wonderfully targeted campaign with the prettiest banner ads, BUT if your banner ads link to a website with only a 1003 application and some pictures of a home, you are WASTING your money.

At leadPops, your ROI is our primary motivation.
With Originator Everywhere, you benefit from beautiful Banner Ads designed with advanced HTML5 coding allowing for eye-catching animation, fully optimized in 6 of the most common ad sizes and created for different mortgage types like refinance, purchase, construction, etc.
(Google requires your business account to meet certain requirements to even be eligible to run Banner Ads, but thanks to leadPops, your eligibility is guaranteed.)
Additionally, your do-it-for-me service will also be converting the traffic that clicks on your banner ads by driving them to your Lead Funnels so they can become a lead in your book of business.
Why wouldn't you want your Lead Funnels displayed in front of future borrowers while they surf the web?
Making use of Google's Banner Ad service by yourself is virtually impossible as a Loan Officer…
With leadPops' Originator Everywhere Service, you can fast forward through the journey, stick to running your mortgage business, and have leadpops launch your professionally optimized campaign in a matter of days.
You'll get plugged directly into mortgage-specific targeting, images and animations specifically honed for your industry.
Let the experts do it for you, and sign up for the leadpops Originator Everywhere service today.