What if your email signature was a better way to get more leads?
Think about it.
You send dozens of emails per day. Some of us send out hundreds.
You send out emails to old pals, acquaintances, business partners, and lots of potential leads.
In other words, your email signature gets seen by all the right people, most of the time.
Why wouldn't you optimize something like that?
If you're going to send out the same thing hundreds of times per day, one simple tweak that improves it by 1% can yield you a tremendous amount of results by the end of the year.
That leads us to only one question:
What are the tweaks you need to make sure your email signature is making full use of its exposure? Here are four ideas to get more leads with simple tweaks to your signature:
#1: Create a Visual Call to Action
The first thing you need to tweak about your email signature is also the simplest:
Make it visible.
In other words, don't allow your email signature to go unnoticed.
Remember what we just said in the introduction—that your email signature will get seen by hundreds and maybe even thousands of people per month?
This is valuable real estate. You don't want to make it easy to ignore.
The solution to that is to create a visual element to your call to action.
You can use this email signature as an example: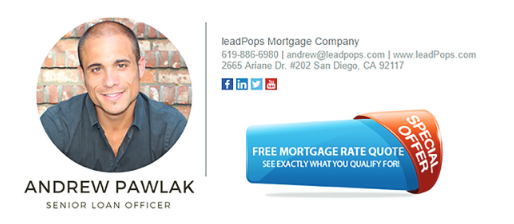 Notice that the essential information is all there—the name of the company, the phone number, the email, the contact information.
But there are also two distinct visual components to this email signature:
The personal credibility comes in the form of a professional photograph. That one's easy.
The call to action can be found wrapped around a "special offer" banner. Notice that the CTA is designed specifically with the recipient of the email in mind. This is designed for them, not for any generic lead, which is essential in generating more leads from an email signature.
With this in mind, you can do a lot to enhance your email signature. With small visual elements, you won't add much "heft" to the average size of your email, but you will create an email signature that's more engaging and more likely to generate interest within the reader.
#2: Create Something More Engaging
How do most people use the vital real estate of their email signature?
Trick question. They don't really use it. Not like they could.
For example, one person might simply state their name and address. And that's great for some industries where you want to communicate that you're the consummate professional.
But what if you want to generate leads?
You're going to need something more engaging.
For example, an "Apply Now" link is not enough.
But what if you tweaked your signature to say something more interesting? For example, if you were to create an email signature that read as the following:
Realtors, how can I help you generate more qualified leads and sell more homes? Click here to find out now!
Does that sound like something a specific audience might be more likely to click?
Of course it does. Because it does a couple of things:
It addresses a specific need. It introduces a solution in the span of one sentence, and then leads the reader with a call to action to the next step in the process.
It talks directly to the intended recipient. By doing this, it targets the exact type of person who might be reading the email and would consider themselves likely to click on a CTA of that type.
Just incorporating these two elements into a brief, 1-3 sentence call to action in your email signature can instantly make it more engaging. But there are other ways to ensure that your signature can create more leads…
#3: Credibility
You need to establish credibility and trust very quickly.
In section #1, you noticed that the example included a professional picture as well as a title: Senior Loan Officer.
This has a number of psychological effects.
First, it communicates trust. People have a tendency to trust what they can see. By incorporating a picture, this email signature showed that there's someone to be trusted here.
Second, it creates a sense of "knowing." You're no longer emailing with a faceless entity on the Internet. You see who you're talking to.
These are two powerful psychological effects that you can build right into your email signature without changing any of its wording.
But the trust factors can go beyond a picture as well.
Consider that if you contact a doctor via email, they might include a line that the message is for the intended recipient's eyes only.
This may be due to HIPAA regulations.
But it also has the effect of demonstrating to the recipient that the doctor is taking their confidential information seriously.
When you adjust your email signature, remember these ways of creating implicit trust:
Demonstrate that you're a human. Include your name, a photo, and show your title. This will show people that they're talking to a real, living, breathing human, and will immediately introduce a new element of trust.
Demonstrate some authority. That might come from something as simple as publishing your job title.
Demonstrate your trustworthiness. One way to do that is to show off all of your contact information, showing that you're open with your information and willing to trust others as well.
Each of these elements in an email signature will have a positive effect on how the customer perceives you. And when that happens, they're more likely to click your call to action.
#4: Succinctness
Sometimes, less is more.
In the example of an effective email signature above, you might have noticed that there's not a whole lot going on.
Sure, there's plenty of implicit information being communicated: trustworthiness, authority, etc.
But when it comes down to the actual content? Not so much.
That's because your email signature shouldn't be excessively bulky or hard to read.
The more you put into an email signature, the more it can feel like you're "tweaking" it for optimal success.
But that's not really how it always works.
In fact, you'll often find that the best tweaks are what you cut away from your email signature—especially if you have a long one to begin with.
Cut away with the excess story-telling. Focus on visuals and powerful implicit messages instead.
This, after all, is your email signature.
It isn't "War and Peace."
The more you can do to pack in information to your email signature without packing in more text, the better.
Of course, it helps the lead-generation process along if you actually have a link worth sending people to.
That's why we recommend that you sign up for a free trial of leadPops.
This won't only help you with creating better landing pages for people who click on the link in your signature, but it will make you more motivated to capture leads using new avenues.
After all—there's a lot of potential traffic that could come your way. If you don't capitalize on it, who will?